Modularized clean flashing setup
Just my personal method to make clean-flashing & from-scratch setup as hassle-free as possible.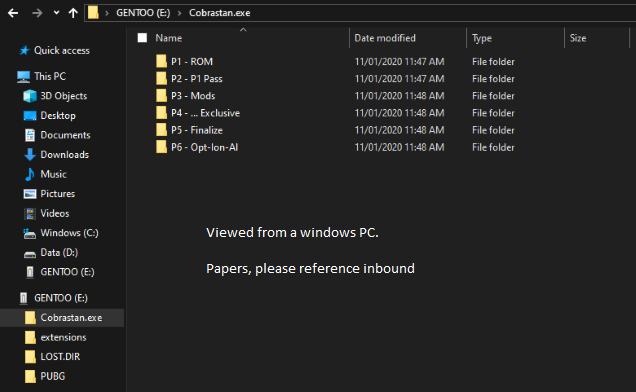 P1 - ROM

True to its name, this part contains the ROMs. Optionally, GApps are placed here - provided that they are flashed alongside ROM (A-only) / after a recovery reboot following the ROM & custom recovery flashing (A/B).

Recovery zips are also placed here, for A/B devices.

P2 - P1 Pass

If the ROM boots, then components from this folder is flashable. Contains Magisk zip, NanoDroid zip(s), & custom kernel (the last one is optional).

Flashing order :

NanoDroid (Systemized is ideal) > Magisk > Kernel (swap Magisk & Kernel if kernel lacks Magisk retention)

P3 - Mods

Mods that work with root goes here. AFWall+, AdAway, MyAndroidTools, & SD Maid fits here. If you're using a kernel manager, it goes here too.

P4 - ... Exclusive

Potentially the most unnecessary for most, but a must if you're using more than 1 PDA, and each PDA serves a certain purpose.

P5 - Finalize

Contains some basic apps - some of which are actually replacements to prebuilt apps; most notably Simple Gallery, AIMP, & Nova Launcher.

P6 - Opt-Ion-Al

Filled with apps that's nice to have - but otherwise not integral to personal PDA experience. Aurora Store & backup apps go here, though.